IVC FILTER
HOOKWIRE LOCALIZATION
IVC FILTER
IVC FILTER
An Inferior Vena Cava (IVC) filter is a small device that can stop blood clots from going up into the lungs. The inferior vena cava is a large vein in the middle of your body.
An IVC filter is one method to help prevent pulmonary embolism. Your inferior vena cava (IVC) is the major vein that brings oxygen-poor blood from the lower body back to the heart. The heart then pumps the blood to the lungs to pick up oxygen.

An IVC filter is a small, wiry device. When the filter is placed in your IVC, the blood flows past the filter. The filter catches blood clots and stops them from moving up to the heart and lungs. This helps to prevent a pulmonary embolism.
The IVC filter is placed through a small incision in a vein in your groin or neck. A thin, flexible tube (catheter) is inserted into this vein. The catheter is then gently moved into your IVC. A collapsed IVC filter is sent with the catheter. The filter is left in place, and the catheter is removed. The filter then expands and attaches itself to the walls of the IVC. It may be left in place permanently. In some cases, it may be removed after a period of time.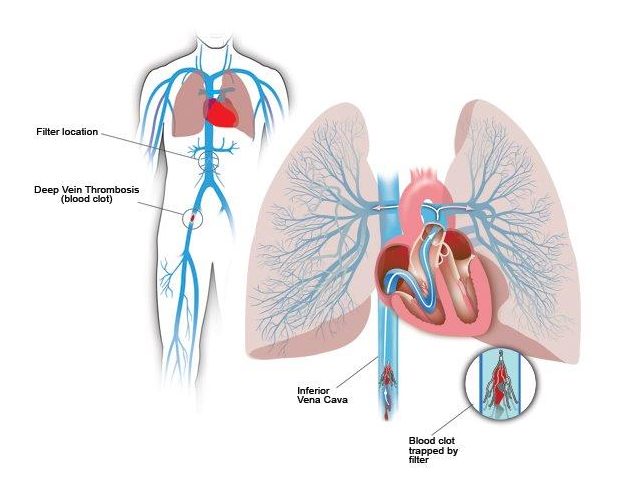 HOOKWIRE LOCALIZATION